The open beta of League of Legends: Wild Rift is now available in Southeast Asian countries, but if you want to download LoL: Wild Rift Last Update 1.1 in other countries you can also do it. In this guide we tell you how to play Wild Rift for mobile from any country.
Although the date of the Wild Rift open beta Version 1.1 is scheduled for December, and that of America for early 2021, if you follow the steps below you can start playing LoL Wild Rift in just a few minutes.
How to download LoL Wild Rift on Android
Here are all the steps you must follow to download and play League of Legends: Wild Rift from any country in the world. Note that, for now at least, this method is only valid for Android users.
First, we must go to the KiwiAPK page from our terminal. In this third-party store compatible with Android, well known for being one of the main in World, we will look for the Wild Rift application and we can start the download process.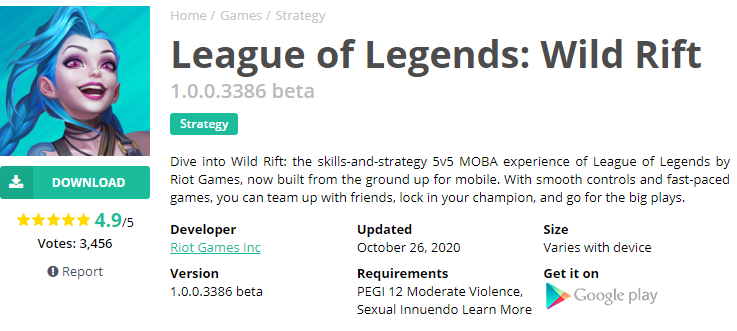 Download the latest League of Legends: Wild Rift APK + OBB 1.0.0.3386 Last Version beta files.
Extract the zip files to get the .apk file and OBB folder.
Transfer the LOL mobile APK file to phone storage and install it. (Do not open it yet)
Next, launch a file manager or file explorer on your phone.

Extract the com.riotgames.league.wildrift zip.
Copy the extracted folder com.riotgames.league.wildrift to the directory Android/obb
Now, download a VPN app (paid recommended) we chose the cheapest from this VPN list of coupons.
Change region Brazil, Philippines,Indonesia…
Play League of Legends: Wild Rift game.
The system will tell us that you must download and install the application to follow the process and, after performing that step, the next thing will be to do the same with the League of Legends: Wild Rift apk.
How to play Wild Rift from other Countries
With the application already installed, we enter it and let it download everything necessary to function. What interests us is to take advantage of our WiFi to have all the necessary data from Wild Rift and, when the game reaches the Riot Games login , we will close the app.
The next step is to jump to a VPN (we have used VPN list of coupons) and choose one of the countries where the open beta is available : South Korea, the Philippines, Indonesia, Japan, Malaysia, Singapore and Thailand.
In our case, the server that has worked best for us is Singapore , but depending on the saturation of users, it will be advisable to try others.
From here you just have to enter League of Legends: Wild Rift with your account -or one created for the occasion- and start playing. The game will load in the language of your terminal, so you will have no problems enjoying the new LoL for mobile from Riot Games .
If you prefer to wait for the final version, here is the link to pre-registration to Google Play Store League of Legends: Wild Rift for Android . We will also notify you when it is available to download for iPhone and iPad.
That's all you need to know about how to download Wild Rift beta for Android in League of Legends, we hope you found our article as useful as possible and get the most out of it now that you know how to download the game beta.